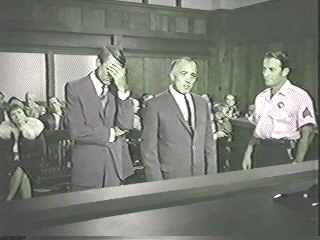 "North By Northwest"
Edward's first outing in an Alfred Hitchcock project, the 2nd being "Alfred Hitchcock Presents" where he played a DA named Henshaw. This time, no toupee! Edward plays lawyer Victor Larrabee, trying to prove his client, Ad executive Roger Thornhill(Cary Grant) is not crazy. Seems Thornhill believes some bad guys are after him thinking he's George Kaplan, a spy for the US. Both sides won't listen to him and now he's on the run not knowing where to turn. Incidentally, on the show "Get Smart" the resident dumbell was named Larrabee. Plus in the episode Snoopy Smart Vs. The Red Baron Edward's Chief character is chased by a cropduster and is forced to hit the dirt as Cary Grant did in one of the most well-known movies scenes in Hollywood. Coincidence?
"The Governor And JJ"
Once again, Edward teams up with "Get Smart" Executive Producer Leonard Stern for a 2nd time in this comedy shot in front of a live audience. Edward plays Orrin Hacker, a neurotic member of the Governor's political party, but appears in only four episodes. Here he has a great idea that will help Governor William Drinkwater(Dan Dailey) shake off a scandal involving himself and a former stenographer, Joan Brock. Brock, now a stripper, comes back to prove that she and the Governor never had a fling. Edward is great in this episode especially when he kisses Joan's hand which is awfuly close to her ample busom. The show co-stars Julie Somars(as Jennifer-Jo) who guest starred in an episode of "Get Smart"(Mimsi Sage, aka Amanda Crispin). This is the 2nd time Edward works with Joi Lansing(Joan Brock). Edward really showcased his comedic side in this show, a noticible change from his Chief role which had to be more straight-man. Edward worked a 3rd time with Stern in the Made For TV Pilot for the mystery show "The Snoop Sisters" playing Julius Nero, the ex-husband of a well-known actress.